'I'm rubbish at arts and crafts!'
How many of us are guilty of expressing that sentiment in our lifetimes? Whether we lack the confidence, or haven't yet found a craft to love, for so many the idea of getting started on a new project, venturing into the unknown, induces feelings of anxiety and self-doubt.
Yet, the benefits of crafting are well-documented. And the good news for those of us who feel slightly artistically challenged is, you don't have to be Picasso to get all the mental health benefits of crafting. Here are just some of the ways that research has shown crafting is good for your wellbeing:
1. Crafting lifts your mood. Research has shown that engaging in any craft activity, at any skill level, gives a boost to your overall mood.
2. It improves your self-confidence. It may not seem like it when you first start out and you don't have much faith in your ability to create something great, but trust the science boffins. They've done the research, and shown that crafting boosts your self-confidence, even if you're not really sure you are very good!
3. It is great for your mental agility. So if you sometimes feel like you slow down later in the day, don't remember things well, or get totally exhausted trying to understand the new fandangled methods they're teaching your children in maths, crafting is a brilliant way to get your brain doing things with a bit less effort.
4. Crafting decreases cognitive decline. It is totally natural for our brain function to decline slightly as we get older. Engaging in craft activities has been shown to reduce the level of decline, and slow down the speed at which it happens.
5. Reduce symptoms of anxiety, depression, PTSD, insomnia, and chronic pain of any level. There is a whole heap of evidence that crafting can reduce mental health and physical health symptoms. The effect is not greater the more confident you are, or the more capable you perceive yourself to be. Pick up a paintbrush and make something totally abstract – it will still be good for your health!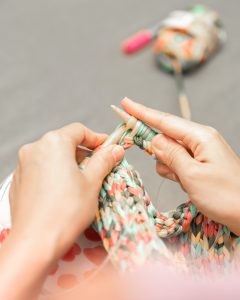 So we've established that crafting is great for your health and wellbeing. But if you're working to a tight budget, or you have no idea how to get started, the idea of knitting everybody a Christmas jumper Mrs Weasley style might seem somewhat overwhelming. Panic not! Start small and make things your way. You may prefer to follow clear, step-by-step instructions; or you may be happier just having a go and seeing what happens. There is no right or wrong way to enjoy craft activities. Here are just a few ideas to get you started:
1. Paint by Numbers: there are craft kits all over the internet. Paint by Numbers is a lovely relaxing way to get into painting. There is no need to think too hard, just relax and do what the instructions tell you to do!
2. Knit a scarf: if you can learn just one type of stitch, you can knit a scarf. Once you're confident with your one stitch, knitting can really become like mindful fidgeting – you don't think about it, it just keeps your hands busy while you're talking or watching tv. And it is wonderfully satisfying to see your fidget toy turning into a recognisable item of clothing. It's even better when you wear it out for the first time and you can tell people you made it!
3. Colouring: adult colouring books are everywhere! You can even get special books for colouring in pages and pages of profanities, if you're feeling that way inclined.
4. Build something practical: if you have no idea where to start, or you're not confident using the necessary tools, you can come along to the Community Shed where our volunteer can show you how to build your project safely.
5. Learn calligraphy online: YouTube is a fantastic source of inspiration and learning. Calligraphy is just one of the hundreds if not thousands of crafts you can learn online. Find yourself a teacher you like, and before you know if you'll be making beautiful table plans for every occasion!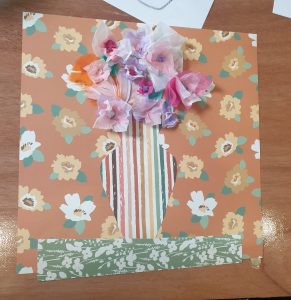 Whatever craft you decide to take up, the most important thing is to enjoy yourself. When you've finished your first project, we would love to see what you made and know how it made you feel – you can send us pictures by email or via any of our social media channels.
Happy crafting!